Looking for a way to beat the heat in Phoenix? Look no further than Golfland Sunsplash Water Park in Mesa, Arizona. With over 30 rides and attractions, this park is an awesome option for families and groups seeking a fun-filled day out.
But what sets Golfland Sunsplash apart from the rest? While it has everything you'd expect in a water park, it also has some of the best slides in Arizona. The slides range from easy going family slides to something more intense which is sure to get your heart racing!
And that's not all – the park also offers go-karting, mini-golf, laser tag, and more. With customizable packages for group events and parties, Golfland Sunsplash Water Park is a great spot to be on a hot day in Phoenix.
Water Park Dad's Insider's Tips
Golfland Sunsplash has an impressive roster of attractions to keep everyone entertained for the full day. Read on to learn more about everything at the water park as well as see some video of the more popular slides.
Here are some things to consider:
This is one of the top water parks in Phoenix based on the number of attractions and slides.
While it's one of the best water parks in the area, there are a few things to keep in mind:

The location is easy to access, but there are many comments about the area not being the greatest. As always, never leave your valuables in your car.
This is one of the older water parks around (it opened in 1986!) and it shows in places. There are complaints about it being dirty and you can see in some of the videos below that the slides could really use a power wash or a fresh coat of paint.
This park is EXPENSIVE! At almost $50 per person and $250 for a season's pass, that's really expensive for a local water park like this.

With all that said, if you live in the Phoenix area or love water parks, it's probably worth a visit. Unfortunately, there aren't that many better alternatives and while not everyone loves this park in the reviews, many people had great experiences.
Attractions at Golfland Sunsplash Phoenix
Golfland Sunsplash Water Park has something for everyone. It has all the water park staples like a wave pool, lazy river and a variety of slides. It also has a splash pad which is always appreciated by those who have young kids. Golfland has done a nice job of making sure there is something for everyone.
You can have a relaxing day in the wave pool and lazy river or step things up and go on some of the more intense slides. There is plenty to choose from at the water park.
Additionally, for those guests who want to stay dry, the park also offers miniature golf, laser tag, go-karts, bumper boats, and an arcade.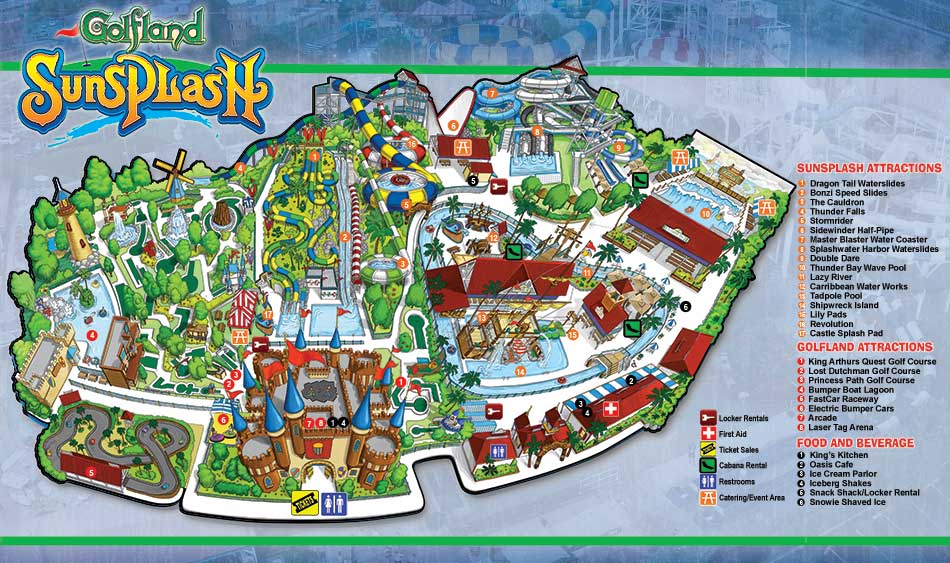 Waterslides at Golfland Sunsplash Mesa Arizona
With over a dozen waterslides, it's hard to pick a favorite at Golfland Sunsplash Water Park. Some of the most popular slides include the Master Blaster, Thunder Falls, and the Sidewinder.
The Stormrider slide is a "toilet bowl" slide where riders have a steep drop down into a bowl. Once in the bowl, you'll circle around until you are flushed out the bottom to one final slide section which empties into a pool. This is a common ride in water parks across the country, but for a good reason: it's usually a crowd favorite.
Master Blaster is one of the more popular rides at this water park. It's a water coaster which means it's one of the longest slides at the park with both downhill and uphill sections.
The Dragon Tail slides are your standard tube slides. While there is nothing incredible about these slides, they will typically have shorter lines and are still plenty of fun. This is a fully enclosed slide, although not in complete darkness like some other slides. They are winding slides which get moving pretty quickly, but not enough to make many people uncomfortable. This is a crowd pleaser that most guests will enjoy.
The Revolution water slide is similar to the Stormrider (above) as it's a single bowl slide. Again, it's not that intense, but the drop into the bowl will get some people excited. This is another enjoyable slide, but not too intense.
The Sidewinder is one of the more intense rides at Golfland Sunsplash. It has a steep drop into a half pipe where the tube will slide back and forth until the ultimate conclusion at the bottom of the ride. There will be moments of weightlessness while you're up on the wall. This is a tube slide and you can ride in a single tube or with a partner in a two person slide.
Thunder Falls is a family friendly slide. It's a tube slide which will hold four people. While it seems pretty tame as it's a straight ride with no curves, it's a seven story drop!
In my opinion, the most intense slide at the water park is the Double Dare. This is a drop slide where the floor disappears below your feet. These slides always create so much build up and anxiety which makes for a great rush once you finally drop. You can find these at parks all over the country, which is a great sign that they're a fun slide!
Golfland Sunsplash in Mesa, AZ has many slides to keep you entertained for the full day. Whether you are looking for something easy going like the Dragon Tail or something more intense like the Double Dare, you should be able to find something for everyone here.
Cabanas
For those looking to relax in style, Golfland Sunsplash Water Park offers cabanas for rent. This is a great way to get out of the hot desert sun and gives you a home base for your group to relax as well as drop your bags for the day. Cabanas at Golfland Sunsplash are available for the day, up until 5PM, or for the evening, which is 6PM to close.
Cabanas come equipped with a table, chairs, and a ceiling fan.
If you reserve in advance online, you can save some $10 to $15. Sunday through Friday cabana rentals are $108 per day while Saturdays and holidays are $145 per day.
Day Passes for the Water Park
Prices vary depending on the day of the week and time of year, but will generally range between $40 – $50 per person. Infants are free, but toddlers will still cost you $5.99 per day.
Weekday (typically Monday through Thursday):

General Admission (48 inches and above): $41 – $50
Junior Admission (3 years old up to 48 inches tall): $38 – $48
If you are looking to save money, Golfland Sunsplash also has Seniors rates and night rates where you can get a cheaper admission by coming after after 3PM.
If you're looking for a combo pass for the water park and all the dry land attractions including unlimited mini golf, laser tag, race cars, bumper cars and bumper boats, that will cost you around $62 per person.
Keep in mind that these prices can change and if you book last minute, you could end up paying a lot more if it's a busy day. It's safest to book in advance.
Season Passes for the Water Park
I've seen Season Passes for many water parks in my research and I've never seen a season pass as much as Golfland Sunsplash. The 2023 Season Pass is $250 per person or a reduced rate of $245 if you buy four or more passes. That's CRAZY expensive compared to most other parks.
It's clear that they are trying to encourage people buy day passes. Many water parks like to sell these for cheaper prices and make their money from food, lockers, parking etc. from their pass holders coming back often.
In order to make it worth it, you have to come at least five times a year which is possible, but way more visits required than is normal. Compared to Six Flag's Hurricane Harbor, which is the most comparable water park in Phoenix, it's way more expensive. Hurricane Harbor's season pass starts at $50 for the ENTIRE YEAR. They even have a platinum pass which has many perks, including access to the impressive Magic Mountain theme park. The platinum pass at Hurricane Harbor is $160, which is still way less than the $250 Season Pass at Golfland Sunsplash.
Hours of Operation
Golfland Sunsplash Water Park is open seasonally May through October. Starting at the end of May, it opens seven days a week. That runs through until July. For August through October, some midweek days are closed.
For more details, head over to the Golfland Sunsplash Water Park Schedule.
The water park is typically open from 11AM to 5PM as a minimum, but is also open late many nights. Check the Golfland Sunsplash website for more details.
Golfland Sunsplash: What You Need To Know
Golfland Sunsplash is one of the best water parks in Phoenix. Between Hurricane Harbor Phoenix and Golfland Sunsplash, these are the two best water parks in Phoenix. While Golfland Sunsplash is a bit tired and old, it has some great slides and the reviews on the customer service are mostly positive.
The water park is a bit expensive and the season pass is offensively expensive, but if you can get past the price and you are looking for a place to cool off and have some fun in the sun in the Phoenix area, Golfland Sunsplash is a great option.
Frequently Asked Questions
Do You Need to Bring a Towel to Golfland Sunsplash?
Yes, you should bring a towel with you to Golfland Sunsplash. They do not provide towel service at the water park. If you don't have a towel, you may be able to buy one in the gift shop or else you'll have to air dry!
Can I Wear Water Shoes or Sandals at Golfland Sunsplash?
Yes, you can wear water shoes, sandals, or socks at Golfland Sunsplash. In fact, it is highly encouraged as the ground can be very hot in the afternoon sun. Just be sure to choose footwear that is comfortable and secure for walking around the park. You may have to take your shoes off for certain rides, but I usually hold them in my hands which almost never a problem.
Can I Wear a Shirt at Sunsplash?
Yes, you can wear a shirt at Sunsplash. In fact, it's becoming more and more common. I prefer to wear a SPF shirt instead of applying sunscreen all over my body. It saves me a lot of time to put a SPF shirt on my son instead of trying to make keep him away from the slides and splash pads while I slather him in sunscreen.
Who Owns Golfland Sunsplash?
Golfland Sunsplash is owned and operated by Golfland Entertainment Centers, Inc.. The company has been around since 1953 and currently has eight amusement parks and water parks in California and Arizona. Seven of the locations are in California and Golfland Sunsplash in Mesa is the only location outside of California.
When Did Golfland Sunsplash First Open?
Golfland the amusement park first opened in Mesa, Arizona, in 1983 and the water park was added in 1986. Since then, Golfland Sunsplash has been expanding and improving to become the park you see today.
If you are looking for a water park in the Phoenix area, consider checking out my other articles on water parks in Phoenix: Hurricane Harbor Phoenix and the Oasis Water Park at the Arizona Grand Resort.
I also have other water park guides for water parks all over North America.